Upcoming performances
Visit our
upcoming events
page and
Event Calendar
for details about our future performances.
Our photo gallery
Visit our wonderful
photo gallery
to view lots of photos taken over the years at our performances and more informal times.
YouTube clips of Cyrenes performances
Visit our
YouTube page
to see us at past performances.
Recent performances

2018
2017
Cyrenes Winter Concert, 24 June 2017

chOir-tly LOUD, Wollongong, 3-5 November 2017

Cyrenes Christmas Concert, 9 December 2017 - with guest group, Table Reds
2016
Cyrenes Winter Concert, 1 July 2016

Climate Council fundraiser with the Chorus of Women, 1 September 2016
St Ninians Uniting Church fete, November 2016

Cyrenes Christmas Concert, 17 Dec 2016
2015
Under One Sky Massed Choir, Wollongong, 17 May 2015
Oxjam @ The Polish Club, 21 August 2015
Cyrenes Farewell Winter Concert, 29 August 2015
2014
Citizenship Ceremony, Canberra Multicultural Festival, 9 February 2014
Canberra Marathon, 13 April 2014
Cyrenes Spring Concert, 6 September 2014
Floriade, 20 September 2014
Kangaroo Valley Folk Festival, 17-19 October 2014
St Ninians Uniting Church Fete, 1 November 2014
2013
High Court of Australia,13 January and 24 February 2013 (as part of The Musical Offering for the Canberra Centenary) - view photos
National Folk Festival 2013, Canberra – invited street choir (four performances), March/April 2013 - view photos
Villagio Sant' Antonio, 15 June 2013
Cyrenes Winter Solstice Concert with guest artists, the Gracenotes, 22 June 2013
One River, August 2013 - view photos
One River was the ACT contribution to a 2013 Centenary of Canberra project in which 10 communities from Queensland, NSW, ACT, Victoria and South Australia participated in arts projects that told of their connections to the Murray Darling Basin. Canberra musicians, John Shortis and Moya Simpson, created original songs about our local links to rivers in the basin. One of these songs, One River Life Giver, was written for the National Carillon and a massed choir of 80 voices, made up of community choirs Worldly Goods and The Cyrenes. The piece was performed with the carillon played by lead carillonist Lyn Fuller. The Canberra Times - http://www.canberratimes.com.au/act-news/-2s5h3.html
The finale of the One River project was an all-day art and music celebration at the Belconnen Arts Centre on 24 August 2013. The Cyrenes combined with the Worldly Goods Choir and The Ukulele Republic of Canberra to present wonderful old songs such as Murrumbidgee Rose, The Darling is the Darling of My Heart, and Murray Moon. The original songs included One River Life Giver (Carillon song) and Welcome Song.
Kangaroo Valley Folk Festival, 25-27 October 2013
Canberra Hospital (Canberra Hospital Foundation Christmas Choir Festival), 15 December 2013
High Court of Australia, 22 December 2013 (part of The Musical Offering) - view photos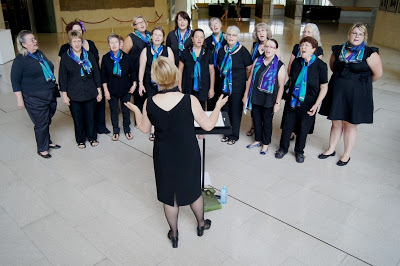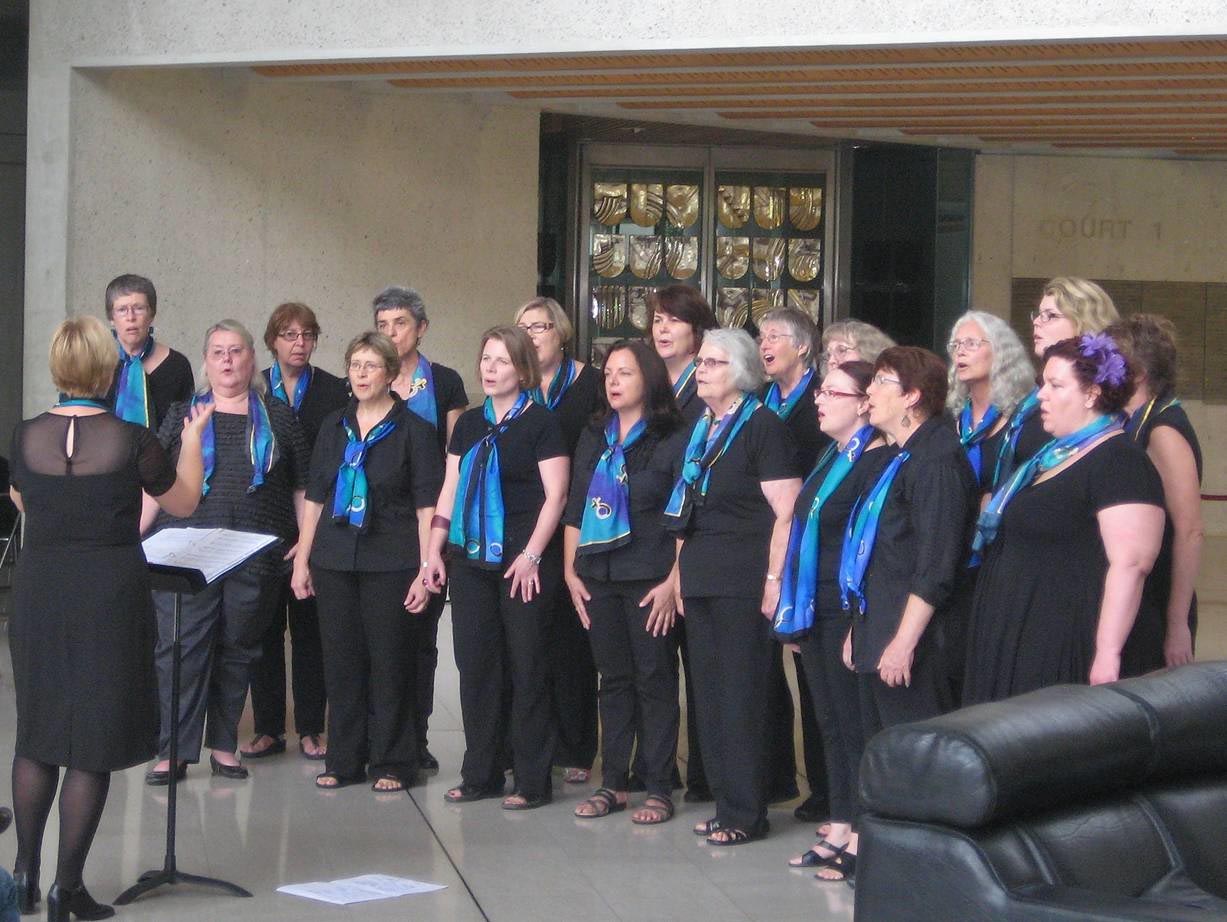 Cyrenes at the High Court of Australia, 13 January Cyrenes at the High Court, 24 February 2013
2013 (Photo: Eric Pozza)
(Photo: Ian Foster)
2010-2012
Christmas in the City, Canberra, December 2012
Floriade, Canberra, September 2010, 2011, 2012
'Festival of Voices', Moruya Jazz Festival, 2010, 2011 and 2012
Multicultural Festival, Garema Place, Canberra, February 2010 and 2011
'Room to Read' for International Women's Day, Tilleys, Canberra, 2010 and 2011
Old Bus Depot Markets, Canberra, August 2011
'Groovin in the City', Garema Place, Canberra, December 2010
Official opening of the new Lyons Early Childhood School, Canberra, May 2010
ACT Government, International Women's Day, Street Theatre, Canberra, 2010
National Folk Festival 2010, Canberra - singing with Kristina Olsen @ The Budawang, (see the YouTube clip), April 2010
Winter Solstice Celebration, June/July every year
Summer Solstice Celebration, November/December every year.
Past projects
Over the years, the choir has received funding for a number of choir projects including the 2010 Canberra Multicultural Festival, organisation of an event for International Women's Day, musical development workshops and songwriting workshops.
The choir's 10th birthday celebrations in 1999 included the recording of the choir's first commercial CD,
For the Love of It
. This CD, released in 2000, included many original songs written for an original musical production,
On the Souls of Her Feet
, telling the stories of 11 women.
The 20th birthday celebrations in 2009 included the launch of our latest CD,
Diving For Pearls
.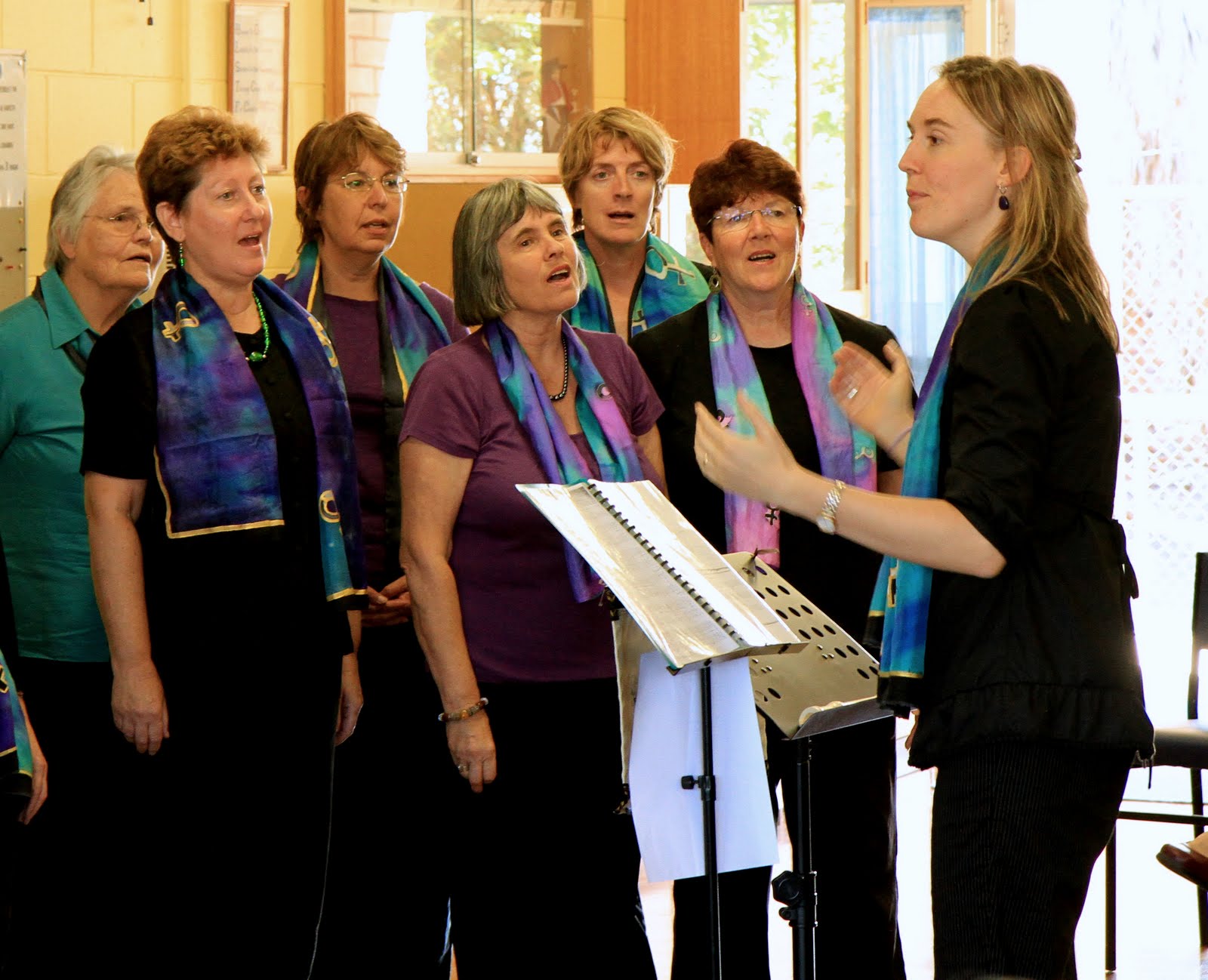 Cyrenes 2007 Multicultural Festival 2011 Launch of
Diving for Pearls
at the coast,
(Photo: Ian Foster)
2009
(Photo: D King)
Past performances
The Cyrenes have performed for community groups and charity events such as:
Room to Read
Amnesty International
Young Women's Christian Association (YWCA)
Women's Centre for Health Matters
International Women's Development Agency
Community Aid Abroad
Nature and Society Forum
The Cyrenes have also performed in high profile concerts at:
National Folk Festival
Floriade
Canberra Multicultural Festival
Merry Muse
National Botanic Gardens Spring Fling
Major's Creek Folk Festival
Sydney a'cappella Festival
Tilley's Divine Cafe
Canberra Festival Fringe Festival
'See Change' Arts Festival, Jervis Bay.
Local schools, conferences, and events include:
Official opening of the Lyons Early Childhood School
Queen Elizabeth 2 Family Centre, National Museum
Old Bus Depot Markets
Memorial service for heroin users
Gorman House Markets
International Women's Day events
'Reclaim the Night' marches
Women's National Health Conference
Palliative Care Conference
St Phillip's Church, O'Connor
CAPOW! Conference
Australian College of Midwives National Conference in Canberra
Australian College of Midwives
'ACT Midwife of the Year' Awards
InterParliamentary Union Women's Conference.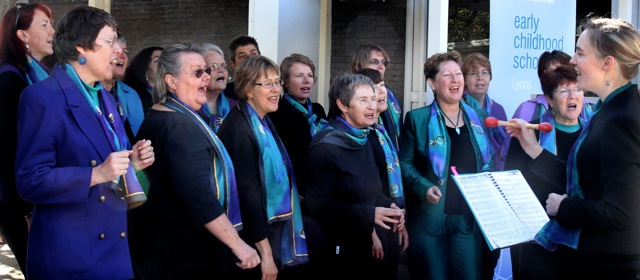 Opening of Lyons Early Childhood School, 2010
(Photo: Sara Nand)
We have also performed together with:
Inana Women's Refuge choir - Inanarama, Malaika, Riversong
Canberra Union Voices
Canberra Gay and Lesbian Choir
Strange Weather Gospel Choir
Cantare
Calculating Women
Voices from the Vacant Lot
Raised Voices
Just Another Roadside Attraction
'Why Sing?', massed Canberra Choirs, led by Moya Simpson & John Shortis
Kristina Olsen, at the National Folk Festival (see video clip).
The choir enhances the quality of life, not only of its members, but also of the diverse audiences who listen to their performances.