Our 30th anniversary reunion concert
On 23 November 2019 we were thrilled to present a concert celebrating our last 30 years as one of Canberra's first all women community choirs. Community choirs have become a wonderfully stimulating part of Canberra's musical culture in the 30 years since the Cyrenes first ignited our musical scene. Our concert will celebrate our past, our present and of course, our strong future!

We were delighted to welcome former members of the choir to come and sing with us in honour of all who have worked so hard to make the Cyrenes a success.

We put together a lovely program of music. One of the ensembles, Speak to Me Sister, was very special: it featured former Cyrenes Amanda Grahame on the harp and Jesse Soria singing with former Cyrenes providing the background harmonies.

The concert was held on Saturday 23 November 2019 at 7pm at The Chapel of the Australian Centre for Christianity and Culture, 15 Blackall St, Barton ACT 2600 (map here).

And you can re-live the heartwarming and joyous evening! View our YouTube video clips from the concert. And look at the fabulous photos. The memories live on in our hearts - a truly special event!
A joyous singing reunion
At the concert, the current Cyrenes presented some of our current repertoire. We also had a joyous and fun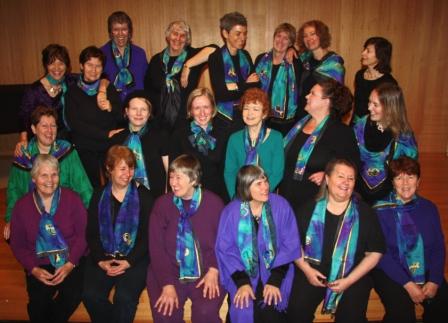 bracket of songs that current and former Cyrenes sang together. These songs include Batonebo, Blackbird, That Lonesome Road, Soul Wind, Happy Earth, Tiddas and Stand by the Shore.


To make this singalong an even more enjoyable experience for all, all former members were invited to come along to three special Tuesday rehearsals in the three weeks before the concert.
Our beginnings
T
he Cyrenes was formed in 1989. It was one of the first community choirs in Canberra and remains one of the few

all women choirs in Canberra. It was the brainchild of Lynne O'Brien, a Canberra woman involved in community music and women's support services. Lynne saw a need for a safe environment in which women could sing together and which could provide them with opportunities to perform in the Canberra community. She established the choir with these ideals in mind. The current choir carries on that tradition.



Singing is part of the joy and wellbeing of life
This was the singing philosophy when the choir was first founded and it is such an inspirational statement that it has sustained us during our 30 years. Whilst the choir strives for excellence in performance, our underlying philosophy is that singing is part of the joy and wellbeing of life, that everyone can sing and has something to contribute. The choir enables women to build confidence, improve existing skills and gain new ones in choral voice and solo performance. Members are encouraged to develop and perform at their own pace and to actively participate in the choir's development and advancement. This support and participation are key elements in the continued strength and success of the choir.

The choir enhances the quality of life, not only of its members, but also of the diverse audiences who listen to their performances.
Our music
'Our musical journey has been a process that has challenged, developed and inspired each and every choir member over the decade of the Cyrenes existence. We hope you enjoy listening to our musical journey as much as we have walked it, and danced it... and most importantly, sung it' – Introduction, For the Love of It, 1999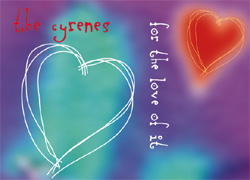 We are very proud of our two fabulous CDs that were produced to mark significant anniversaries. The choir's 10th birthday celebration in 1999 was celebrated with the recording of the choir's first commercial CD, For the Love of It. We are delighted to share
all these songs
with everyone.. This CD, released in 2000, included many original songs written for an original musical production,
On the Souls of Her Feet
, telling the stories of 11 women.

The 20th birthday celebrations in 2009 marked the launch of our CD, Diving For Pearls. All
these songs
are now available online for everyone to enjoy.
Our performances and community involvement
The Cyrenes have performed over the years for charity events, local schools, community celebrations, aged care centres, hospitals, conferences and festivals. We love to be part of the community as is obvious by our list of
past performances.
Watch us on YouTube
Enjoy our past performances on YouTube via our website. Or watch us (and subscribe if you wish) on our YouTube channel.
Photos from over the years
Visit our wonderful photo gallery - below are some selections from 10 years ago.
Canberra Multicultural Festival, 2009
Moruya Jazz Festival, 2009
National Folk Festival, 2009
Our musical directors over the years
We thank all our musical directors for their inspiration, stimulation and creativity!

Self-directed 1989-1992
Chrissie Shaw late 1992-1994
Loani McRae March 1995- Jan 2002
Giselle Nathan Term 1 1997
Rani Olafsdottir Term 2 2002
Self-directed 2002-2003
Veronica Thwaites-Brown June 2003- June 2005
Judith Clingan Jan-Sept 2006
Veronica Thwaites-Brown Nov 2006-2007
Giselle Nathan Jan-Aug 2008
Veronica Thwaites-Brown Sept 2008-2011
Glenda Wadsley 2012- June 2013
Johanna McBride Aug 2013- present

We also wish to acknowledge and thank the workshop leaders who have sparked our creativity over the years. Some of the songs they taught us have remained favourites and are in our current repertoire.

Workshops: Melanie Shanahan, Arramaieda, Voices from the Vacant Lot, Rachel Hore, Kristina Olsen and Jenny Sawer.

Memories from the past 30 years
We invited our former members to reminisce and to reflect on what the Cyrenes meant to them..

Testimonials and memories
"Wow, 30 years, how wonderful a testament to the power of women, community and singing!" - Lynne O'Brien, Sept 2019
The Cyrenes recorded a track on the We're Not Square vinyl LP produced by Lynne O'Brien and Graham Eager for 2XX in 1990 - memory from Lynne O'Brien, Sept 2019


Concert and CD launch for 20th anniversary celebrations, 2009