The Cyrenes' first recording experience took place in 1990, with the recording of Sin Nje Nje on the 2XX compilation album We're Not Square. Over the following years several Cyrenes' demonstration audio tapes and cassette tapes of live concerts were produced.

The cassette On the Rocks was our first big recording project. As part of our 30th anniversary celebrations in 2019, we digitised the tracks and are now very pleased to be able to share all these songs.



We are very proud of our two fabulous CDs that were produced to mark significant anniversaries.

Our first CD, For the Love of It, was launched in October 2000. The CD shows off the impressive variety of the choir's repertoire, from slow to up-beat songs, from old to modern songs, from a cappella singing to songs with accompaniment. The album includes several original pieces written by choir members.

The Cyrenes' second CD, Diving for Pearls, was recorded over a period from 2005–2009, and was launched as part of our 20th birthday celebrations in October 2009. Some of these songs remain our favourites and are still in our current repertoire

We are thrilled to be able to share all our songs from our cassette and both of our CDs. You can also view our
YouTube clips
which feature some of the songs on our casette and CDs.

'Our musical journey has been a process that has challenged, developed and inspired each and every choir member over the decades of the Cyrenes existence. We hope you enjoy listening to our musical journey as much as we have walked it, and danced it... and most importantly, sung it' – Introduction, For the Love of It



---
On the Rocks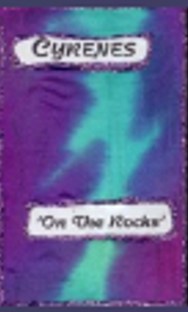 Nissa nissa
Oh, Freedom!
Womanly Times
Blue Moon
Holi Hla Hla
Sylvie
Canzone della Donne
Let Your Little Light Shine
Dona Nobis Pacem
Walking after Midnight
Ella's Song
Sanzenina
Women of the World
---
Diving for Pearls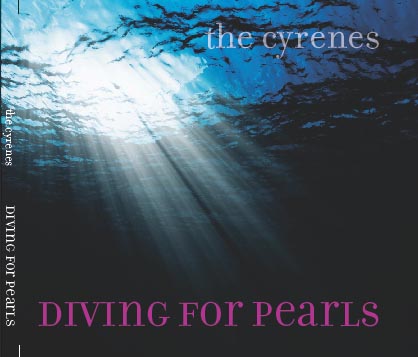 Kulba Yaday (Christine Anu)
If I Stayed
(Kristina Olsen; Arr. by Giselle Nathan)
I Am Ready
(Rachel Parton-Dennison; Arr. by Rachel Hore)
My Island Home
(Neil Murray; Arr. by Rachel Hore; Accompanist, Sam King)
Who We Are
(Ysaye M. Barnwell)
Happy Together
(Garry Bonner & Alan Gordon, Arr. by The Nylons)
Within Our Darkest Night
(Music by J. Berthier; Arr. by the Taizé Community)
Soul Wind
(Andrew Swain)
Your Children
(Lyrics - Kalil Gibran from The Prophet; Music by Ysaye M. Barnwell; Arr. by Loani McCrae)
Away Zamangwaza
(Traditional Zimbabwe)
Batonebo
(Traditional Georgian women's healing song)
Tiddas
(Scott Ferris & Sally Dastey)
---
For the Love of It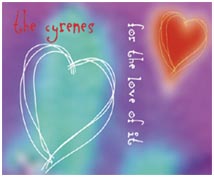 Unity (Lisa Young) The voices of women, the voices of unity. Right across the world people are singing, searching for truth, looking for peace, expressing their love.
Mi Mano
(Leonie Harrison) Mabelle: for her courage and inspiration.
Happy Earth
(Tiddas) Under threat, our beautiful earth.
Si Ya Humba
(Traditional African)
Blackbird
(Lennon/McCartney)
Speak To Me Sister
(Leonie Harrison) The loving sentiments of women supporting each other in hard times echo through this song. Based on a true story set in Chile.
The Lullabies
(Traditional) Shh... don't wake the baby with these lullabies from Portugal, Senegal and Wales.
Burning Times
(Charlie Murphy) About witches, holocausts and Mother Earth. Choir members and audiences alike report tingling sensations every time we sing this powerful song.
Ave Generosa
(Hildegard Von Bingen) Born in 1098, Hildegard has become the most celebrated woman of her age as a visionary, naturalist, playright, poet and composer. Ave Generosa sings the praises of the Virgin Mary and is known for its sensual imagery.
Struggle and Survive
(Melanie Shanahan)
When the Night is Come
(Kath Shaw) When the night is come you're on your own, when the day is done you're all alone. Ultimately we are thrown back on our own resources. It pays to go within and know who you are and know what you believe in.
Sing!
(From the Heart) (Traditional) Be yourself and walk through life with certainty and an open heart. Sing! Love! Dance!
Kake Lambe
(Traditional South Africa)